What camera do you use?
Currently, my A-camera for independent projects is Sony A7siii. For commercial and specialized projects, I have used Canon C300mkII, Phantom Flex, Sony FS7mkII and others.
Why Sony a7siii?
10-bit 4:2:2 internal recording in an easy-to-edit format (I don't need raw). Great autofocus, in-body stabilization and gyroscopic post-stabilization, good low light. I've been on Sony E Mount for about 9 years so it would be expensive to replace my lenses if I switch.
What picture profile do you use?
I shoot slog3 sgamut3cine.

What frame rate do you shoot?
My videos are rendered at 23.98p. I shoot 23.98p for most real-time footage. If I need slow motion, I shoot 60p or 120p. For just a slight slow motion effect, I shoot 30p and then conform to 24p on the timeline. I teach how to use frame rates for creative effect in Unscripted Studio.
Why do you shoot 24p? Obviously 30p and 60p are much smoother.

Every single movie, high-end TV show, commercial and music video is 24p. It's the cinema standard. There is no alternative frame rate. If you can't shoot good 24p, you'll never get hired in the professional film and commercial industry. You have to learn how to adapt your shooting style to get good results in 24p. I teach these shooting techniques in my film school Unscripted Studio.
What's the best beginner camera?
It really depends on what you want to shoot. The options change all the time. Most beginner vloggers use the Canon M series (M50, M5 etc) or D series (90D, 80D). For beginning filmmakers, I recommend a Sony A7IV or Blackmagic Pocket Cinema Camera 4k or 6k. You can also start on your smartphone (I recommend a newer iPhone for its image stabilization and easy file transfer to desktop). The important thing is to learn storytelling, which you can do with ANY camera. Anyone can buy a fancy camera, but only a few people can tell a great story. I have many hours of storytelling instruction in Unscripted Studio. My storytelling lessons work with any camera.
Why don't you use a RED, Blackmagic, or other cinema camera?
I shoot on gimbal a lot, so I need good autofocus, IBIS, and small size. The gyro stabilization of the A7siii also helps smooth out small imperfections in my gimbal shots. For handheld or tripod work on commercial shoots, I have used cinema cameras like the Canon C300 series or Sony FX series.
What camera and settings do you use for your Instagram Stories?
iPhone 13 Pro Max, default camera app, 4k 24p.
I'll very rarely use a clip from my A7siii, Insta360, or other camera. You can tell the shots done on a "real" camera because I usually post them in horizontal mode (so you need to rotate your phone).
What iPhone app and settings do you use for your Instagram Stories?
Default iPhone app because it has the best stabilization. The other apps have inferior stabilization because Apple doesn't let them access the full gyro data. I usually lock my focus exposure (long press screen), then I drag down a bit to crush the shadows. This actually improves the stabilization because it forces the camera app to use a higher shutter speed. Higher shutter speed = better gyro stabilization.
Why don't you use Filmic Pro or other camera apps?
The native camera app has the best stabilization.

Do you color grade your iPhone footage?
Usually not. I occasionally use the built-in color tools to raise shadows a bit or add warmth or saturation. I try to get the best-possible image just by shooting in good lighting, exposing properly, and most importantly choosing a good subject.
Do you use an iPhone gimbal?
Nope! iPhones have great stabilization built-in. To get smooth moves, I use the same ninja-walk technique that I use with a gimbal. I would still use a gimbal if I needed to run with my iPhone, but so far I've never done a running shot.
Do you edit on your iPhone?
I only use the built-in trimming tools. I don't do complex edits on my phone because it's annoying and slow to me. For any serious editing, I use FCP X.
What gimbal do you use?
My gimbals are Manfrotto 300XM, DJI RS 3 and Zhiyun Crane M3. 300XM has the most power for intense shooting at any angle, but it's heavy. RS 3 is balanced between power and gimbal weight, but it does have worse performance when held at difficult angles. Crane M3 is a tiny gimbal that barely supports my A7sIII, so I use it just for shots that require more dexterity than motor power, or in very tight spaces. M3 is great for monopod extension shots because it doesn't add too much weight to the monopod.

I teach in-depth about gimbal operation in my film school Unscripted Studio.
But which is the best gimbal for me?
Currently, I prefer DJI RS 3 or 300XM for professional use. If you have a heavier camera than A7siii, and you like to use big zoom lenses like 24-70mm f2.8, then you should use RS3 Pro or 300XM. If you use lighter smaller lenses, and want a lighter gimbal, you might want to consider Zhiyun Crane M3.
For small mirroless cameras, phones, and action cameras, Zhiyun Crane
M3 is great. You can even use the M3 with a Sony A7siii and
medium-sized lens. Tamron 17-28mm f2.8 is the largest I've used, and it
just barely works.
The Icecam Tiny Ultravision is good if you want to be able to customize settings at an engineer's level using the SimpleBGC open-source app.
DJI's Osmo gimbals for smartphones are also great, just get the latest version.
How do you keep focus on a gimbal?
For shots with a moving subject, I usually use AF-C on the A7siii. I use subject tracking focus for most subjects, and I keep focus speed and sensitivity around the middle settings. However that's not the whole story with keeping focus. The main reason my shots stay in focus is because I use special ways of blocking, framing, and moving with the gimbal to take advantage of autofocus. I know its strengths and its limitations.
I have an extensive lesson about focusing on a gimbal in Unscripted Studio. Your blocking, framing and shooting technique are just as important as your gimbal settings.

For shots where the subject remains a constant distance from camera, I will switch to Manual Focus, pre-focusing on the subject before filming. I like to use AF-S and tap-to-focus to quickly get focus. Then I keep my same distance as I move with them.
I usually do not use focus peaking because it's not 100% reliable. Zoom-in focus assist is better. I have assigned this focus zoom to custom key C1 on my A7siii, so I can punch in with a single button press. Additionally, I use the Sony Vlogger Grip GP-VPT2BT. This grip has a C1 button that allows me to access my focus zoom without touching the camera. I screw in the GP-VPT2BT to the bottom of my gimbal.
I also review my takes with the EVF or an external monitor. If a shot is out of focus, I re-shoot it before moving on to a new shot. I never trust my camera's LCD for judging focus.
Do you use special Focus Area settings?
I usually turn on special Focus Area settings only when I'm not filming faces (face detection off), or when there are too many faces (filming in a crowd). I set focus area to the area where the subject is located in the frame. For unpredictable situations, Wide is usually the best setting.
Why are your gimbal shots smooth? I can't get the same smoothness, even though I have the same gimbal.
You're probably not moving your body smoothly. Gimbal shots are 50% gear, 50% body movement. Practice every day and analyze your footage each time. I have extensive tutorials and homework lessons in Unscripted Studio for perfecting your gimbal movements.
I leave in-body image stabilization IBIS "on" for most gimbal shots.

Additionally, with Sony's newer mirrorless cameras like A7siii and FX3, you can post-stabilize your footage in their Catalyst software. This stabilization uses gyro metadata for highly accurate stabilization. It's much better than Warp Stabilizer, but it does crop the image a bit. I use Catalyst stabilization just to eliminate small jitters from my gimbal shots, going from "good" to "perfect".
What are your gimbal settings? If I use your settings will I get smoother movements?

I adjust speed/smoothness/deadband for each shot, usually through a bit of trial and error. The particular settings depend on the focal length and the type of camera movement. You can think of it like the suspension settings of a sports car, or the specific fit of a shoe for an athlete. Every situation is different.
My only recommendations for gimbal settings are this: if you're not getting smooth response from your gimbal, first make sure you're balanced properly. Then auto-tune to your camera's weight. Then lock any axis you don't need for the shot – use Full Lock if you won't be needing to pan, etc. Then if your shot still is jerky, try using a slower follow speed, with higher smoothness.
Slower follow speed is usually smoother. However if it's too
slow, you'll feel your gimbal resisting the movement and causing extra
mechanical jerks.
I've used over a dozen gimbals on different types of shoots,and I've been able to get smooth shots with almost all of them. It's not just because of the settings – it's mostly because of the way I move my body.
Regarding camera settings, for most cameras I recommend leaving in-body stabilization IBIS "on" while using a gimbal.
Do you shoot slow motion (60p or 120p) to make your gimbal shots smoother?
I don't usually shoot slow motion to smooth my gimbal shots. Most of the time I shoot 24p, and I use proper body movement to keep the shot smooth. Slow motion is a popular technique to use for cinematic sequences on Youtube, but I find it to be boring when it's over-used. Just like any other stylistic trick, slow motion is interesting only when it's used sparingly for a specific purpose.

The only time I use slow motion to smooth my gimbal shots is when the subject is not moving. For instance, I would use 60p for a cloose-up shot of static objects on a table. 60p helps to minimize the little jitters in a close-up shot, and because the subject isn't moving, the shot won't appear to be in slow motion.

I have a technical problem with my gimbal. Will you help me?
Sorry, I'm not a repair technician. I wouldn't know how to fix any of your gear. If your gimbal doesn't work, you need to contact the manufacturer or a support group online. Facebook groups exist for almost every product.
What ND filter do you use?
Sometimes I don't use ND filters. I have special ways of dealing with shutter angle and motion blur, which I explain in the lessons in Unscripted Studio.
When I do need ND, I currently use Kenko PRO1D+ Instant Action Magnetic Filter System VND combined with H&Y Circular Magnetic ND Filters. The Kenko filters are my base filter up to 5 stops, then if I need a little extra, I drop a 3 or 6 stop H&Y static ND on top. The magnetic system allows me to switch filters faster when I change lenses. But it's also less secure than circular screw-in or square drop-in filters. That's the trade-off.
Freewell's magnetic VND system is also quite good. I recommend looking into it.
For a good non-magnetic VND, I suggest any Tiffen-brand filter.

What cameras do you use for behind-the-scenes?
My head-camera is an Insta360 Go 2 with a hat mount. My chest camera is Insta360 Go 2 or DJI Action 2. Additionally, I usually have someone else film me with an iPhone or other mirrorless camera. I also use the Insta360 One RS with the 4k boost lens BTS shooting because its image quality is better than a GoPro and it's the same small size.

How do you record your voice for vlogs and tutorials?
I use a mix of on-camera shotgun microphone and lavalier microphone. My on-camera shotgun mic is ECM-B1M. For my lav audio, I use Hollyland Lark 150, Rode Wireless Go, or Sony Sony UWP-D wireless systems. For voiceover, I use my iPhone's microphone with a voice recording app. I try to record my voice in an environment without much echo. A bed with lots of pillows is a good environment for voiceover recording.
EDITING QUESTIONS
Do you use warp stabilizer on your gimbal footage?
Most of the time, no. But sometimes I use it to smooth out shots where I used a wide lens. Those types of shots usually stabilize better in post than shots with longer lenses. With my A7siii I sometimes use gyro stabilization via Catalyst Browse/Prepare software. Generally, better gimbal shots come from better operating techniques, not post-stabilization. I teach gimbal technique extensively in Unscripted Studio.
What editing program do you use?
For my filmmaking work, I use Davinci Resolve to edit and color grade.
For tutorial videos and vlogs, I use Resolve or Final Cut Pro X.
My computer is a 2022 Macbook Pro 14″ with M1 Max Processor, 64GB RAM and 2TB internal SSD. This computer can seamlessly edit 4k 10-bit footage from the A7siii without proxy. I have great real-time performance in Resolve without rendering proxies. The computer never overheats, and the battery lasts for at least 3 hours even when editing video.

Do you use a separate program for color grading?
Currently I color grade in Davinci Resolve.
What LUT do you use?
To transform slog3sgamut3cine to Rec709, I use the Davinci Resolve Color Space Transform effect on a node.
Sometimes I will instead use the Phantom Arri LUTs. This just depends on my particular taste for the shot.
After transforming to Rec709, I rarely use creative LUTs. I choose subject and lighting carefully, and make sure my shots look good with just the natural colors. Then I just enhance it in post with subtle color correction. Creative LUTs don't fix bad footage – they actually can make it look worse if you're not careful!
Do you sell your LUTs or color presets?
No.
Where do you get your sound effects?
FCP X has a huge built-in sound library. I also get some sounds from audiosocket.com, epidemicsound.com, uppbeat.io, and artlist.io. I teach sound effects editing extensively in Unscripted Studio.
Where do you get your music?
For most of my short films, I hire a composer. For my Youtube tutorials and vlogs, I use audiosocket.com, uppbeat.io, artlist.io, soundstripe.com, and epidemicsound.com. I teach music editing in Unscripted Studio.
What are your Compressor export settings for Youtube?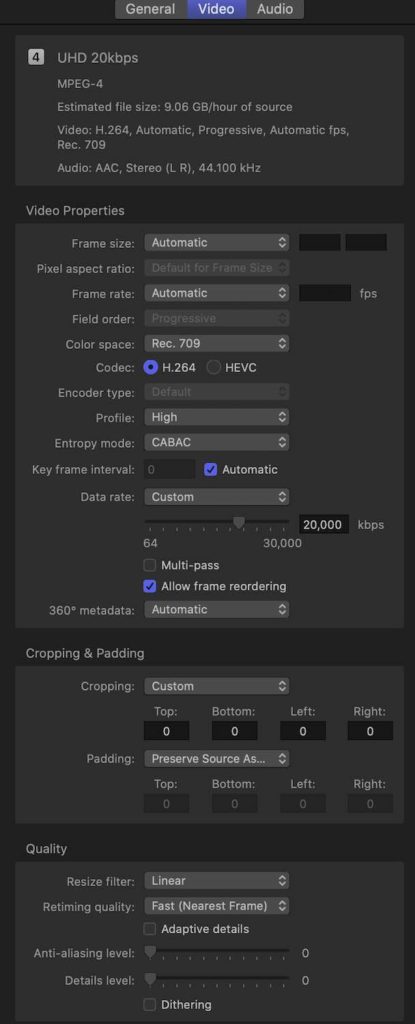 What are your Compressor export settings for Instagram?